SEATTLE, WASH.
– A scrappy performance from Seattle Sounders FC (13-13-2, 41 points) secured a 2-1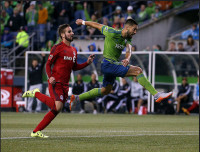 win over visiting Toronto FC (11-11-4, 37 points) in front of a rain-soaked crowd of 39,960 on Saturday night at CenturyLink Field. With the victory, Seattle has now won three of four matches in MLS play, moving the Rave Green into third place in Major League Soccer's Western Conference. Both Seattle goals were created by the frontline co
mbination of Obafemi Martins and Clint Dempsey, with the two Designated Players starting alongside one another for the first time since May 31.
Seattle wasted little time to establish an early lead, as strike partners Dempsey and Martins combined to put the home side up 1-0 in the sixth minute of play. Starting his first match for Sounders FC since August 1 due to a hamstring injury, Dempsey played Martins into Toronto's 18-yard-box, keeping the Nigerian just onside. Martins slotted a shot past TFC netminder Chris Konopka to record his team-leading 11th strike of 2015.
Preserving its 1-0 lead through halftime, Seattle conceded an equalizer to TFC in the 59th minute, as former Sounders FC defender Eriq Zavaleta headed home his first goal of the season. Fellow defender Ashtone Morgan provided the cross, leveling the score at one apiece.
It was Dempsey and Martins who helped Sounders FC retake the lead, with the latter sprinting down the right flank to create a one-on-one opportunity at the top of Toronto's area with Konopka. The TFC goalkeeper came off his line to greet the challenge, creating a loose ball that Dempsey redirected into the back of Konopka's net. The goal was Dempsey's eighth tally of the year.
Sounders FC Assistant Coach Brian Schmetzer patrolled the sideline for the Rave Green on Saturday evening, with Head Coach Sigi Schmid absent due to a heath-related issue. Schmid is expected to return to Seattle training next week and resume his duties.
Sounders FC looks to win its third consecutive match next weekend in San Jose, with the Rave Green visiting newly constructed Avaya Stadium for the first time on Saturday, September 12 (7:30 p.m. PT / JOEtv, KIRO Radio 97.3 FM, El Rey 1360 AM). With only six matches remaining in the regular season for Seattle, and San Jose trailing the Rave Green by three points with a game in-hand, Saturday's match is a key fixture in the race for the 2015 MLS Cup Playoffs.
MATCH SUMMARY
Seattle Sounders FC 2 – Toronto FC 1
Saturday, September 5, 2015
Venue: Xbox Pitch at CenturyLink Field
Referee: Ted Unkel
Assistants: Jonathan Johnson, Mike Kampmeinert
Fourth Official: Tyler Ploeger
Attendance: 39,960
Weather: Rain and 64 degrees
SCORING SUMMARY
SEA – Obafemi Martins (Clint Dempsey) 6′
TOR – Eriq Zavaleta (Ashtone Morgan) 59′
SEA – Clint Dempsey 77′
MISCONDUCT SUMMARY
SEA – Zach Scott (caution) 19′
SEA – Osvaldo Alonso (caution) 30′
TOR – Marky Delgado (caution) 68′
LINEUPS & STATS
Seattle Sounders FC – Stefan Frei; Tyrone Mears, Zach Scott, Chad Marshall, Oniel Fisher; Brad Evans – captain, Osvaldo Alonso (Leo Gonzalez 89′), Erik Friberg, Lamar Neagle (Nelson Valdez 61′); Clint Dempsey (Gonzalo Pineda 81′), Obafemi Martins
Substitutes not used: Troy Perkins, Cristian Roldan, Andreas Ivanschitz, Chad Barrett
Total shots: 11 (Dempsey/Martins, 4)
Shots on goal: 9 (Dempsey/Martins, 4)
Fouls: 13 (Fisher, 4)
Offside: 6 (Dempsey/Fisher, 2)
Corner-kicks: 5 (Friberg, 5)
Saves: 3 (Frei, 3)
Toronto FC – Chris Konopka; Ashtone Morgan, Clement Simonin (Jordan Hamilton 81′), Eriq Zavaleta, Josh Williams; Michael Bradley – captain, Jonathan Osorio, Marky Delgado, Herculez Gomez (Jay Chapman 74′); Robbie Findley, Luke Moore
Substitutes not used: Joe Bendik, Ahmed Kantari, Chris Manella
Total shots: 8 (4 players, 2)
Shots on goal: 4 (Osorio, 2)
Fouls: 6 (Simonin, 3)
Offside: 0
Corner-kicks: 3 (Bradley, 3)
Saves: 7 (Konopka, 7)
MATCH NOTES
With the win, Sounders FC jumps to third place in the Western Conference with 41 points (13-13-2), level with FC Dallas but slotting ahead due to the total-wins tiebreaker. The Rave Green sit four points back of second-place Vancouver and five points back of first-place LA Galaxy, as well as just one point ahead of sixth-place Portland. Just three points separate third and seventh place in the jam-packed Western Conference.
Obafemi Martins' goal marked his team-leading 11th of the season, as well as his fourth in four games since returning from injury. Martins now has 36 goals in his Sounders FC career, second in club history and 11 shy of Fredy Montero's 47.
Clint Dempsey scored his eighth goal and added his team-leading seventh assist of the season, marking the 10th game in 14 MLS appearances that he has recorded a goal or an assist in 2015. With 17 career assists for Seattle, Dempsey is now tied with Lamar Neagle for fifth on the club's all-time charts. His 24 career goals in Rave Green now move him into sole position of fourth place in club history.
Sounders FC improves to 9-0-0 when leading at halftime, the best mark in MLS this season. The club is also 12-2-0 when scoring the first goal.
Dempsey and Osvaldo Alonso each made their first start since a 3-0 loss to Vancouver Whitecaps FC on August 1. Substitute Leo Gonzalez also made his first appearance since a 1-0 road loss to the Montreal Impact on July 25. When Nelson Valdez came on for Lamar Neagle in the 61st minute, it marked the first time that Dempsey, Martins and Valdez appeared on the field at the same time.
POST-MATCH AUDIO
Post-match soundbytes from Sounders FC Head Coach Sigi Schmid, captain Brad Evans, forward Clint Dempsey and midfielder Osvaldo Alonso are available for download via the following link:
http://sndrs.com/z5tc
.