SANTA CLARA, Calif. — Despite a second-half goal from Mike Catalano, the Wisconsin men's soccer team was defeated 2-1 on the road against Santa Clara on Friday night.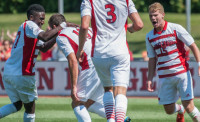 With the game tied 1-1 through regulation, the Badgers (0-3-0) forced overtime and continued pursuit of their first result of the season. It was not to be for UW, however, as the Broncos (1-2-1) found the game-winning goal just seconds into the first overtime period and sealed the victory.
After Edson Cardona scored and gave SCU an early second-half lead in the 49th minute, Mike Catalano had a quick response for UW and tied the game back up minutes later in the 54th minute. The first goal of the season for the Badgers, Catalano scored on a header after the ball was nicely played into the box on a corner kick by fellow sophomore Christopher Mueller.
Santa Clara won both the battle for shots, 16-4, and corner kicks, 5-2, against Wisconsin.
Keeping UW in the game was Connor Revsbeck. The junior made his first-career start for the Badgers at goalkeeper and tallied five saves in the game.
Revsbeck allowed two goals, however, including a strike from Keanu Mendoza in the 91st minute that won the game for the Broncos.
Wisconsin continues its West Coast road trip with a visit to UC Davis on Sunday. Kickoff is set for 7 p.m. CT.
NOTES:
–        The first overtime game of 2015, Wisconsin endured six overtime games last season.
–        Connor Revsbeck made his first-career start at goalkeeper for Wisconsin.
–        Mike Catalano scored the first goal of the season for the Badgers. It was the third goal of the sophomore's career. Catalano also tied for the team lead in shots, marking the third-straight game he has led the team in shots.
–        Christopher Mueller tallied an assist in the game for his first point of the year and second-career point.
– #Badgers –