AUSTIN, Texas – The University of Miami track and field program kicked off its stay at Texas Relays and Florida Relays on Thursday.
Anne Den Otter ran a personal-best time of 4:38.45 to place sixth in the women's 1500m section B final. The freshman's run capped the opening day of competition for the Canes at the 89th Nike Clyde Littlefield Texas Relays.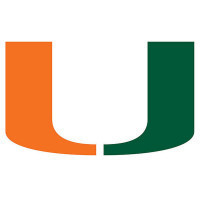 The Hurricanes also had two throwers finish in the top 15 in the hammer throw on Thursday. Precious Ogunleye reached the finals in the women's hammer throw, placing ninth with a mark of 56.44m, while Carlos Mangum finished 13th in the men's hammer throw with a mark of 58.97m.
Samantha Gonzalez competed in the 400m hurdles, running a time of 1:03.24, but did not advance to the finals. Tiffany Okieme (women's hammer throw) and Isaiah Simmons (men's hammer throw) also competed for the Canes at the Texas Relays on Thursday.
In addition to the action in Austin, several Canes turned in solid performances at Florida Relays in Gainesville, Fla.
Gabrielle Hesslau ran a personal-best time of 17:27.64 in the women's 5000m at Florida Relays. Hesslau's time ranks fifth in UM history. Sean Grossman ran a time of 15:11.70 in the men's 5000m.
Breon Mullings led a trio of Hurricanes in the men's open 400m, running a season-best time of 48.47 seconds. Joseph Ryan (49.06) and Anthony Wolliston (50.82) also ran season-best times in the open 400m.
Andreas Christodoulou was the lone Hurricane in the field events at Florida Relays on Thursday. The freshman finished 15th in the men's javelin with a throw of 57.21m.
For all the latest information on the Miami Hurricanes, follow the official Twitter feed, @MiamiHurricanes, or "Like Us" on Facebook at http://www.facebook.com/MiamiHurricanes. Follow @CanesTrack on Twitter for specific news on UM track and field and cross country. The program is also on Instagram.