It's 3 a.m. on a Monday in July of 2015, and the star of the Villanova football team wakes to the sound of buzzing. He turns his alarm off, opens his bedroom door and is greeted by his Labradors—Stowe, Sky and Chance, wagging their tails as they follow him to the bathroom. After he showers, the 240-pound All-American linebacker squeezes into his favorite suit (a discounted, grey JC Penny brand). With his off-season beard trimmed to perfection and his hair neatly swept to one side, Don Cherry says good-bye to his pups and makes the 45-minute drive from his home in Trumbull, Conn., to Point72 asset management, a small hedge fund located concern located in Stamford, headquarters of some of the largest finance firms in the country.
Rather than spend his off-season away from the team partying or relaxing, Don Cherry chooses to spend it inside the walls of Point72, working from 4 a.m. to 12 p.m. as a European trade intern.
At 3 a.m., Connecticut's Merritt Parkway is deserted as Cherry drives his beat-up 2005 Silver Audi to work—the Wall Street wizards, attorneys and other commuters to Stamford and New York, still tucked away dreaming about the deals they will pull off hours later.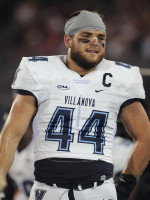 Once in his cluttered fourth-floor cubicle, his job is to overlook all trades being executed by the company's European trade team and to provide his bosses with a mid-day European update.
When his workday is over, Cherry climbs back into his Silver Audi and drives a few towns north to Darien where he spends his afternoons at Dynamic Athletics, a high-intensity training facility popular among local athletes.
Cherry keeps a blue Villanova gym bag, full of Nike training sneakers, shorts and t-shirts in his car. When he arrives at the gym, he gently folds his pants, shirt and tie and places them in the bag along with his Oxfords. He leaves his jacket on the backseat of his car.
Then the second job begins. Each day he completes a specific workout: Mondays and Wednesdays, core and upper body strength, Tuesdays and Thursdays, speed and explosiveness.
Don Cherry's relentless pursuit towards making it to the next level, both in football and in business, is evident by the hard work he has done during the last six months. However, he gained his confidence and work-oriented mentality through a childhood filled with struggle and frustration.
This past summer was particularly strenuous for Don Cherry as it did not end with the two-hour workout at the gym. It was followed by an hour's drive back to his Trumbull home and then long nights studying for the five Villanova online summer courses in which he was enrolled. These summer courses allowed Cherry to jump ahead one full semester so that he'd be eligible to graduate in December with a bachelor's degree in international finance. Once the coursework and degree were complete, he needed the months of January and February to train at various training facilities so he could fulfill his dream of playing in the NFL.
"It was tough," Cherry said of that grueling period in his life. "I was able to do that while doing my internship, and that's what helped me have this free time to not worry about school and focus on training, which is huge."
Although Cherry did not receive an invitation to the NFL's prestigious late February Combine in Indianapolis, where scouts examine possible draft picks as they go through rigorous physical and mental drills, many scouts still see him as a potential late round pick. Among them is highly respected ESPN NFL draft expert Mel Kiper Jr., who recently said, "Don Cherry inside linebacker, Villanova, has a chance as a late rounder/priority free agent to help somebody."
He spent much of the late winter training alongside first-round prospects at Tony Villani's XPE Sports Training Facility in Boca Raton, Fla., a decision that reinforced his belief that he belongs in the NFL.
"I always thought they were so much better than me, but being here has helped me realize that I'm just as good," he said.
Cherry's enormous self-confidence was a driving characteristic as he climbed the ranks in the football world. From high school standout to a Villanova star, Cherry always had great confidence in his abilities, no matter what his critics said about him. Before football however, he didn't posses such an underdog's mentality. He gained these qualities in the summer going into the sixth grade, when his mother decided it was time to make some changes to her son's unhealthy lifestyle.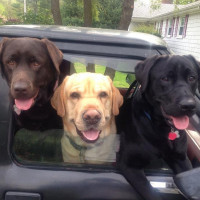 Cherry's parents were divorced when he was five years old. He doesn't talk much about it, but like any child who goes through a tough experience, he was extremely frustrated in the years that followed. Today, Cherry has a strong relationship with both parents. His father films every one of his games and helps put together highlight tapes for YouTube. But at the time of his parents divorce, Cherry was angry with nearly everyone around him. He took his frustrations out by a steady regimen of playing video games and eating junk food. By the time he was 12 years old he weighed 180 pounds even though he was only five and a half feet tall. About the only thing he got out of that lifestyle was by playing the popular John Madden video games, he realized that he wanted to play football. But he was 50 pounds over the weight limit for the Pop Warner age group.
Tired of watching her son stay inside eating junk food and playing video games all day, his mother took matters into her own hands. "That summer she got all of the junk out of the house, and was on my ass the whole time," to eat healthy and exercise, Cherry said. "She kind of made the decision for me that I was going to lose weight."
For example, instead of giving him five pieces of cheese on white bread (cheese sandwiches were his favorite), Monica Cherry gave him two pieces of cheese on a wheat roll. Instead of Country Crock lemonade and Nestle iced tea, she gave him water.
"We were a big chip family, too," his mother recalled about that period in their lives. "Doritos, all of that had to go." After some time, the results began to show, and Cherry realized weight loss was possible. He also realized football was possible, and finally began what was to become a career.
"He was eating healthy, he was going for runs, working out. He was really driven to lose the weight," said Monica Cherry.
That summer, Cherry lost 56 pounds, enough weight to finally be eligible to play football, and before long, he became one of the best players on his Pop Warner team. He credits his mother's tough love and unwavering support in those early years as the reasons he was able to lose the weight. His mother's home-based weight loss camp made Cherry realize he was capable of accomplishing his goals as long as he was willing to put in the work.
As he went through middle school, Cherry kept this lesson in mind. He worked hard in the classroom—always finishing with a B—and worked even harder on the football field as he strove to become the best student and player he could be.
His business career also started during those early years when he and a friend, both juniors at Trumbull High School, created AppVenturers, an iPhone app company.
"We read all of these stories of people having so much success, so we wondered, 'Why can't we do that,'" Cherry said. And so the two of them developed an alarm clock app for an iPhone that would allow the user to customize the sound, rather than be stuck with the annoying default alarm on the average iPhone. They hired an app developer from India, who had to sign a confidentiality agreement ensuring he would not steal their idea. Though the two were constantly tweaking the app after its development, it didn't take off the way they would have hoped and it got very little downloads outside of their friends and family.
"It was difficult but I think it was fun, and it was really good for my resume," Cherry said.
By this point Cherry had become one of the best high school football players in Connecticut on one of the best teams in Connecticut. In 2011, The Trumbull Eagles made both the division and state championships in large part because of Cherry's dominant play at running back and linebacker.
He was recruited by a number of Division I programs, including Penn State, Temple, Syracuse, Oklahoma State and UConn, but failed to receive a single scholarship offer, until Villanova came through. Even though going to the Division I-AA school (a step down from D-I but not quite D-II) in Philadelphia meant giving up on his dream of playing college football at a Division I program, Cherry chose Villanova because it was the only school to offer him a full academic scholarship.
Like most freshmen, Cherry got little playing time during his first season but in his sophomore year, he earned a starting spot on defense, beating out a fifth-year senior for the job. He finished one tackle shy of 100 for the season—a benchmark for above average inside linebackers—was named second team All-Colonial Athletics Association, and earned a spot on the association's All-Academic Team.
"I think he really started to come out in his sophomore year," said Villanova Defensive Coordinator Billy Crocker. "He's oddly focused for someone his age. He knows where his priorities are, he focuses his attention on his academics and on football, and that's why he's been successful in both areas."
In Cherry's junior year, Crocker challenged his inside linebacker to step up and be a leader for the Wildcats on defense, knowing all too well that he'd welcome such a challenge with open arms.
A grin slowly spreads under Cherry's untrimmed beard as he looks back on his junior season, and he starts to giggle. In that season, he wracked up 134 tackles—fifth best in Villanova football's 120-year history—including 21.5 tackles for a loss, 10 sacks and five forced fumbles. His junior year, he was also named a D-I AA All-American, and was recognized along with NFL quarterbacks and top draft selections, Marcus Mariota and Jameis Winston, as well as 20 other future professional players. That season, in which Villanova finished 11-3, turned Don Cherry from small school stud to a legitimate NFL prospect.
"It was a crazy year and it was a lot of fun," he said, giving credit to his teammates and coaches, as most outstanding athletes are quick to do. "I never really got to look back on it, and still now it seems crazy to me."
Cherry had one of the best individual seasons by a Villanova defensive player in school history, so naturally, heading into his senior season, expectations were high.
It began momentously.
Cherry was calm when he stepped onto the University of Connecticut's Rentschler Field for the first game of the 2015 season. Even though UConn had not offered him a scholarship, he harbored no feelings of revenge. For him, it was more of a homecoming game since he'd be lining up against his home state school, in front of dozens of old friends and family from Trumbull.
His pregame ritual remained the same. He got loose with his fellow linebackers and then put on his uniform of white leggings, pants and jersey, which now had a navy blue letter "C" under his left shoulder to denote he was the captain
of the defense. He listened once to his warm up song, "Crown" by Jay-Z, digested his coach's pregame speech, then hit the field.
Although he had gone through this ritual hundreds of times, something was different about this game. As he got in formation for linebacker drills he noticed seven NFL scouts standing two feet in front of him. At that moment, Don Cherry realized how far he had come.
"That's when I was like, 'Shit, this is real. The draft is real, the NFL is real,'" he recalled. "These guys are standing two feet away from me, just eyeing me up head to toe. That's cemented in my brain forever."
Villanova lost that game to UConn and they'd end the 2015 season a mediocre 6-5. The five-win drop-off from the season prior was due in large part to the loss of outstanding quarterback and fellow NFL prospect John Robertson, who tore his ACL in the third game of the season. Cherry didn't put up the big numbers he did in his junior year although in one important respect, he maintained his normal standards by being named to the Academic All-American second team for the second year in a row.
Never a big fan of personal stats, Cherry said overall, his biggest accomplishment during his years at Villanova was being voted team captain for his final year. "From special teams, to starter, to All-American, being voted captain was the highest honor," he said.
Now officially a graduate of the Villanova School of Business, Cherry is spending what would have been his spring semester training in sunny Boca Raton with some of the biggest names in this year's draft. Tony Villani's XPE Sports is one
of the most popular training facilities among today's top NFL prospects in anticipation of the NFL Draft April 28-30.
Although most of the players were training for the Combine, Cherry is training for Villanova's March 31 Pro Day—an all-day event in which graduating players seeking a career in the NFL perform physical tests identical to those at the NFL Combine, in front of NFL scouts.
Every notable college football program in the country holds Pro Days so that players like Cherry, who don't receive a Combine invite, have a chance to make one last impression on NFL scouts before the draft. According to Cherry's football agent, scouts from between 22 to 27 teams are expected to attend the Villanova Pro Day.
Whether or not he makes it to the NFL, Cherry plans on going back to school at some point to study for his MBA in international finance—either at Villanova, or one of the NFL's player programs at universities across the country, including Harvard. If the NFL doesn't work out, he hopes to use his MBA to obtain a full-time position somewhere in the finance world.
For now though, in the final days of training that remain, Cherry is just trying to keep a level head. To relieve stress and earn some extra cash between morning and afternoon workouts, he works as a dog sitter/walker in his Boca Raton neighborhood.
"I made a profile on this site for dog sitters, Rover.com, and I just undercut the prices of all the other sitters in the area. Right now I'm walking this awesome Golden Retriever named Sammy," he said in a phone interview in early February.
As he walks Sammy down the pristine sidewalks of this affluent seaside village, he describes the 70-degree breeze that whistles through his phone as "paradise." He said he's extremely grateful and humbled that he's been able to make it to this point, and called the recent training, "an incredible experience."
But his work is far from over. His goal in the coming weeks is to bring his 40-yard dash time down to 4.5 seconds from 4.6 and to increase his bench press reps to 30 from 27.
"I know I can do it," he says. "I'll get there. I just have to keep working, one day at a time."
Jeffrey Jarboe is a senior journalism major at the University of Connecticut.