UNCASVILLE – Connecticut Sun's 6-4 center Kelsey Bone spent the summer avoiding violence in Turkey, where she played during the off season.
"It was tumultuous," she said, referring to the bombing and other terrorism that rocked that country for much of the time she was there. "It felt like every two weeks something else was happening."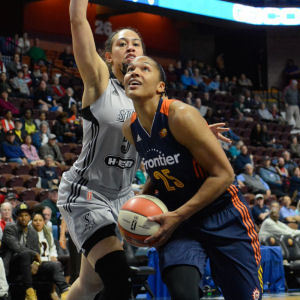 She and Sun teammate Alyssa Thomas were back from the Mideast in time for the Sun's opening training camp because their team did not make the Turkish post season. Returning in time to meet new head coach Curt Miller and become somewhat familiar with his aggressive attacking style of play has apparently paid off for Bone, who is the Sun's toughest player on the blocks but has increased her range so that she's a threat from outside to add to her layups.
Thursday, in the Sun's pre-season 76-53 victory over the San Antonio Stars, that range was on display as she scored 15 points (second only to 2016 top draft pick Morgan Tuck, who had 16 points). Six of Bone's points were from 2 of 3 shooting from the 3-point line and overall she was 6 of 9.
Miller has said he is convinced Bone, in her third WNBA season, has greater range than has been indicated in the past and
"Kelsey is a very talented shooter," he said. "All I've done is given her confidence that if she's gonna' make some threes she has to be able to miss some threes. She knows she has the green light but we can't make her live out there," he added, making it clear that her natural position is around the basket." But Bone and 6-4 newcomer Jonquel Jones, who can also shoot from long range, give the Miller the balance he is seeking on the offensive end.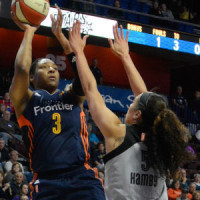 Four players have been in double figures in both of the Sun's two-preseason games although overall they're only 16 of 52 from long range, an issue Miller says must be addressed. Three of those three-pointers were Bone's, whereas in three seasons from 2013-15 she was 0-7 overall from the three-point line.
"He may give me a green light, but I say yellow light," Bone said, expressing caution about her new dimension.
"I understand he wants me on the block, but if the opportunity presents itself and I'm feeling good and feeling ready I can take that shot," she said. "To know that he has that confidence in me to give me the green light, gives me a lot of confidence," she said.
"Last year with the offence, there was a lot of different things needed of me, different philosophies, different schemes but this is what he needs of me every now and then so I'm happy to provide it," Bone said.
Bone said she is getting comfortable with Miller's offense as players get to know each other and decipher what he has in mind. She said part of the reason she is putting together what appears to be a second straight season of accomplishment (she was named 2015 WNBA Most Improved Player) is because she has been in training camp from the start, so in a way the fact that her Turkish team did not make post-season play was a blessing in disguise, she said.
Turkey was a unique experience, she said, but had its frightening moments.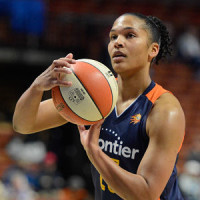 "We had our escape routes if we had to get out quickly," she said of her and Thomas' preparations while there although the team housed the players on Cypress so they weren't in the thick of things.
"It wasn't the least stressful place to be – there were cultural differences. If something happened what would we do? They have the language, a home. But it was amazing to me; it made me think about how the way of the world is."
The basketball world for her coach right now has upside, especially what Miller said was the team's energy and focus in the San Antonio game.
The goal was to come out strong and for the first 5-plus minutes, the Sun held the Stars scoreless while tallying 11 points. "Our starters came out and really disrupted their offense," Miller said.
Overall the Sun shot 42.2 percent (27 of 64) while the Stars managed only 28.3 percent shooting (15 of 53). Twenty of the Stars' points came from free throws on 26 Sun fouls (19 from the bench).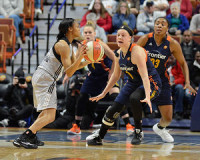 Against Chicago Wednesday, the Sun committed 27 fouls, which concerns Miller as does the fact that the team has had 21 turnovers in both pre-season games.
The Sun open the regular season with road games on May 14 at Chicago and May 19 at San Antonio. The team's first home game is May 21 against the Washington Mystics.
Miller said the Sun will be low on post players against Dallas because former UConn player Morgan Tuck, (the Sun's first round draft pick – third overall), is graduating that day in Storrs and 2014 WNBA rookie of the year Chiney Ogwumike, who missed all last season after surgery on her knee, and has yet to play this season, may be rested until the Chicago game as they are being cautious about her return to the court.
Photos are by James Garman (Sports Page Magazine).