Westlake Porter Public Library
Wednesday – August 17, 2016 at 7:00 PM (CT)
Michael Reghi is the Special Guest
Veteran filmmaker and sports broadcaster, Raymond Rolak, will showcase a multi-media presentation about time-line of two America's favorite pastimes, baseball and cinema. It is Wednesday August 17th at 7:00 P.M. at the Westlake Porter Public Library. Throughout history, there have been over 200 full feature films made with baseball as the main genre. Special guest will be, Michael Reghi, the voice of Cleveland sports.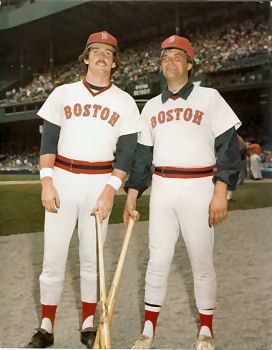 Rolak and Reghi will include lighthearted production memories from the 1977 bio-pic "One in a Million" which starred LeVar Burton. Not to miss is the retelling of their humorous storyline of a contentious encounter with Red Sox outfielders Dwight Evans and Carl Yastrzemski in the Tiger Stadium visitor's dugout.
They will share comments and present rare film posters and artifacts. Anecdotes about baseball cinema will be of special interest to the pop-culture enthusiast. Baseball and motion picture lovers of all ages are invited to attend and learn more about the magic of making motion pictures. For the young players in attendance, there will be memories shared about Cal Ripken Jr. record breaking game. Reghi's October 6, 2001 television broadcast of that contest is both fascinating and historic.
Find out about the changing landscape of baseball/softball and Rolak's sterling and often humorous experiences while teaching baseball in Poland for the Kosciuszko Foundation and the Polish National Youth Baseball Foundation. Learn about the popular film poster art genre in present day Poland.
As a veteran platform provider, Rolak was one of the producers of Hawaii's first full featured comedy, "Get a Job". The presentation will also include a few highlights from the recently released DVD. http://getajobmovie.com/
Rolak has done award winning documentaries and industry recognized sports anthologies. He recently contributed to a new book, "TRIBES: An International Hockey History". https://www.amazon.com/Tribes-International-History-Darril-Fosty/dp/0965116859
Registration requested online or call: 440-250-5460 http://www.westlakelibrary.org/